Free Antenna Television Channels for White Pine County, Nevada

White Pine Television District #1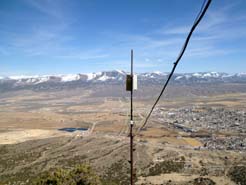 This page serves as a convenient reference for Over The Air (Antenna)

Television Viewers in White Pine County, Nevada.

White Pine County maintains fully digital television service serving Ely, McGill, Ruth, Preston and Lund, Nevada.

The White Pine Television District brings all digital high definition free over the air television service from Reno, Las Vegas, and Salt Lake City via long haul 7Ghz private microwave links that feed our hub site on 10,777' Cave Mountain above Cave Lake State Park. From our high altitude hub on Cave, the ATSC Digital signals feed 3 other translator facilities. Squaw Peak serves downtown Ely and McGill,

Rib Hill serves the community of Lund, and Ruth is served by a site overlooking the Robinson Mining operations.


White Pine Television District

#1

PO Box 151704

, Ely, Nevada 89315 You can contact us via email at
whitepinenvtvdistrict@gmail.com
Our office telephone number is (775) 289-2359


SQUAW PEAK SITE serving downtown Ely and McGill
Translator Call Sign RF Channel Virtual Channel Service
K07DU-D 7 4 ABC Salt Lake KTVX / meTV / SLC Weather
K09EA-D 9 2 CBS Salt Lake - KUTV / myUtahTV
K11EE-D 11 5

NBC Salt Lake - KSL / cozi / this
K06HT-D 6 5 Fox Las Vegas - KVVU / BOUNCE / Escape
K13NR-D 13 10 PBS Las Vegas - KLVX / create / Vme
K50IY-D 50 8 CBS Las Vegas - KLAS / meTV / movies!
K14AL 14 8 ABC Reno - KOLO / movies !
K58BC 22 3 CBS Reno - KTVN / AntennaTV
K48MW-D 48 11 FOX Reno - KRXI / Retro / Grit


FM RADIO
K237AJ translator on 95.3 MHz for KSFI FM 100.3 Salt Lake City is located in WPTV's Squaw Peak building



Photos of our site on Squaw Peak above Ely, Nevada




CAVE MOUNTAIN SITE serving Southeast Ely -WPTV #1 hub

Call Sign RF Channel Virtual Channel Service
K18KA-D 18 11 FOX Reno - KRXI / Retro / GRIT
K20LD-D 20 8 ABC Reno - KOLO / movies!
K24GY-D 24 8 CBS Las Vegas - KLAS / meTV / movies!
K26HY-D 26 10 PBS Las Vegas - KLVX / create / Vme
K28IZ-D 28 5 Fox Las Vegas - KVVU / BOUNCE / Escape
K30CN-D 30 5 NBC Salt Lake - KSL / cozi / this
K32CJ-D 32 2 CBS Salt Lake - KUTV / myUtahTV
K34CM-D 34 4 ABC Salt Lake - KTVX / meTV / SLC Weather
K36LU-D 36 2 CBS Reno - KTVN / AntennaTV



Photos of our Cave Mountain site





RIB HILL SITE serving Lund and Preston
Call Sign RF Channel Virtual Channel Service
K08CB-D 8 4 ABC Salt Lake - KTVX / meTV / SLC Weather
K10BU-D 10 2 CBS Salt Lake - KUTV / myUtahTV
K12DE-D 12 5 NBC Salt Lake - KSL / cozi / this
K47HV-D 47 8 CBS Las Vegas - KLAS / meTV / movies!
K49AM-D 49 10 PBS Las Vegas - KLVX /create / Vme
K40MA-D 40 8 ABC Reno - KOLO / movies!
K43NA-D 43 11 Fox Reno - KRXI / Retro / Grit
K45HS-D 45 5 Fox Las Vegas - KVVU / BOUNCE / Escape

Photos of our Rib Hill site serving Lund and Preston


RUTH - Robinson Mine, serving Ruth
Call Sign RF Channel Virtual Channel Service
K03DS-D 3 8 CBS Las Vegas - KLAS / meTV / movies!
K07DV-D 7 4 ABC Salt Lake - KTVX / meTV / SLC Weather
K09DW-D 9 2 CBS Salt Lake - KUTV / myUtahTV
K11ED-D 11 5 NBC Salt Lake - KSL / cozi / this
K13NQ-D 13 10 PBS Las Vegas - KLVX / create / Vme
K43IL-D 43 5 Fox Las Vegas - KVVU / BOUNCE / Escape
K41MB-D 41 8 ABC Reno KOLO / movies!
K39LE-D 39 2 CBS Reno KTVN / AntennaTV
K44KP-D 44 11 Fox Reno KRXI / Retro / Grit



photos of our antennas serving Ruth



WHITE PINE TELEVISION DISTRICT TV TRANSLATORS ARE ALL FULLY DIGITAL
Since the June 2009 Digital Television Transition, the White Pine County TV District has upgraded all sites to ATSC Digital Television.
This means that you need an ATSC tuner in your television, or a set top DTV converter box for older televisions. DTV has multicasting and High Definition,
reflecting exactly the signal that viewers see in the home city of the stations re-broadcast by our translators. Most stations offer more than one program stream,
you can check with the website for the originating station or look at schedules at Titan TV for information on streams and schedules.
When tuning in a translator, use the listing above and key in the RF channel using your digital TV or set top box remote control, or use the autoscan
function to find your signal. Make sure you have the highest gain antenna possible and point it toward your preferred translator antenna site.

Our friends in Eureka, NV, at the Eureka County TV District help us bring Reno stations to White Pine County.


Reccommended Antennas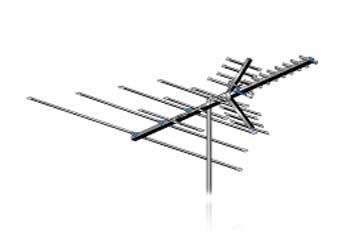 To receive free over the air TV in Ely, McGill, Lund and Ruth, you will need a good antenna.
You can test reception with a wire or simple rabbit ears.
For pixel free reception, an outdoor antenna is best.

For difficult cases, the Winegard 8200U is an excellent directional high gain antenna;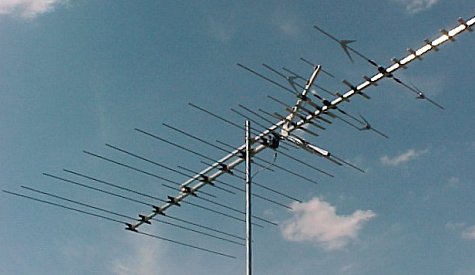 For the best reception on all channels, including the low band VHF
translators on RF channels 2 - 13 in Ruth and Lund, we recommend
the Antennacraft Colorstar HDTV/VHF/UHF/FM Antenna, available in Ely for $69.99


If you want to try a quality indoor antenna without going to the hassle of an outdoor installation
an Indoor / Outdoor amplified panel antenna

Our experience has been that outdoor antennas bring in a better quality signal,
To receive free over the air TV in Ely, McGill, Lund and Ruth, you will need a good antenna.
You can test reception with a wire or simple rabbit ears.
For pixel free reception, an outdoor antenna is best.

For those looking to see free White Pine TV Translator channels, both increased height or a better antenna with more gain are the best two answers.
Try raising your present antenna first to see what kind of results you get. If that doesnít work, then get a better antenna.
TV Translator signals reach out reliably about 20 miles but you need an antenna with good gain
if youíre looking for signals that far away from any of the White Pine TV broadcasting sites
on Squaw Peak serving Ely, in Ruth, on Rib Hill pointed south toward Preston and Lund, or from our hub above Cave Lake State Park.

Many have had good luck with the Channel Master CM-4228HD.
Itís designed for UHF, but seems to work okay for high VHF where signals are fairly strong.
The 8-bay Channel Master HDB8X is a similar antenna.

The Winegard HD-769 series have proven to work well for many for high VHF and UHF reception.
Thereís the HD7694 that many are using successfully, then thereís the better HD7697, and the best, the HD7698. Size and price increase with each model.

The Antennas Direct XG91 is the best antenna for UHF, but it doesnít work well for VHF stations.
You would need a separate VHF antenna to go with it for best results.
There arenít many VHF-only antennas available anymore, so a combination antenna is a good compromise.

If you want the stations transmitting on the VHF low band, channels 2-6, and high band, channels 7-13, plus UHF, the Channel Master 3018 or better 3020, or the Winegard HD8200U are your options.

The stationís transmitter channel is the one you need to refer to when choosing the type of antenna you want. Donít be confused by the virtual channel number.
White Pine TV only operates two low band VHF translator, channel 3 in Ruth, which is KLAS TV, CBS from Las Vegas, and channel 6, KVVU TV Fox from Las Vegas serving Ely.

Here are a few sites offering outdoor antennas:
Solid Signal
Ace Hardware
Dennyís Antenna Service
Channel Master Direct
Mohu Direct


The Winegard "Flat Wave" and Mohu "Leaf", "Curve", and "Sky" as well as the RCA 'Ultra Thin"
offer a good VHF-UHF indoor solution starting at around $30.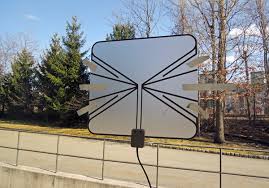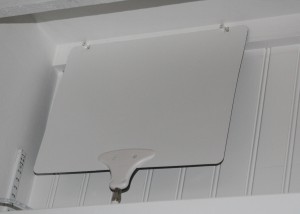 The White Pine TV district is a sustaining member of the National TV and FM Translator Association